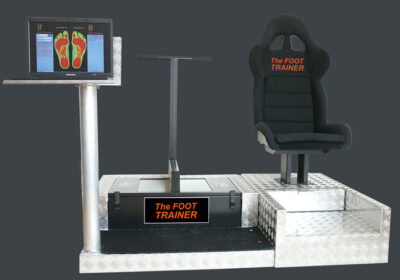 Detection from foot orientated Body axis-symmetric
Foot, walking and running analysis
Fitting and recommendation of insoles and shoes for leisure, sport and professional sports
More performance through foot and shoe tuning
Training and coaching for a better and more conscious walking, running, and moving technique
Since the foot analysis system uses a novel and innovative technology, it is able to diagnose possible defective positions without having to use x-rays. For analyzing its customers' feet, the scanner uses an HRC photo system with a scanner that delivers a plantar view of the feet. Due to its large scanning surface feet can be scanned in their natural standing breadth and their length, breadth, heel breadth, and size of shoe can be determined. With a special program the strains on the foot are identified, the breadth of the foot is categorized, and the type of foot is determined. Already on the basis of these data the right type of insole and shoe can be recommended to the customers. In this impressive foot analysis system the customer data can also be stored which is an additional function that rounds out this perfect program.
Plantar view of the foot: length, width, width of heel, shoe size recommendation MP, UK, US, EU
Determination of load distribution, categorization of width of foot, determination of type of foot